Medicare's Income Related Monthly Adjustment Amount
Your own retirement savings are being used against you to:
The Social Security and Medicare systems are becoming a convoluted disaster that are on track to completely destroy Baby Boomers' retirements.
The 4 Rules of Retirement
1.

In retirement you must enroll into Medicare if you no longer have creditable health coverage through an employer or spouse's employer and are 65 years-old or older.
Failure to enroll results in the immediate loss of all Social Security benefits
2.

Medicare premiums are based on your income through IRMAA.
The more income you have in retirement the higher your Medicare premiums.
3.

The more income you have in retirement the higher your Medicare premiums.
Some examples of income for IRMAA are:
4.

The bulk of your Medicare costs and all IRMAA surcharges are automatically paid by your Social Security benefit .
The more you save incorrectly for retirement the less Social Security benefit you will receive
Even people who have put their money in other retirement accounts such as 401(k)s are in a position to be broadsided. Medicare premiums are calculated based upon your income. People who make more money are expected to pay higher premiums to make up for those who cannot. This is referred to as IRMAA. Many Retirees think this won't affect them because, "They will make less money now that they are not working." Unfortunately, if the government can tax it, they consider it income. Many traditional retirement accounts, investments, and properties are taxable. This means that the government views these individuals as having higher incomes and raises their premiums. These raised premiums can completely swallow all social security benefits and leave an individual owing the government money!
The unpleasant message here is that if Medicare costs were not properly factored into a retirement plan, that retirement plan could very well be worthless.
How IRMAA Solutions
TM

will help you solve this issue
When we discovered this overlooked monstrosity, we set about to correct it.

We gathered the world's foremost experts on this issue with the goal to raise awareness, create a streamlined way to accurately predict future health care costs, and provide solutions on how to drastically reduce them.

The result of this effort was IRMAA Solution's Medicare IRMAA Calculator
TM

. . The game changing software that allows you to quickly, easily, and accurately project retiree's Medicare costs.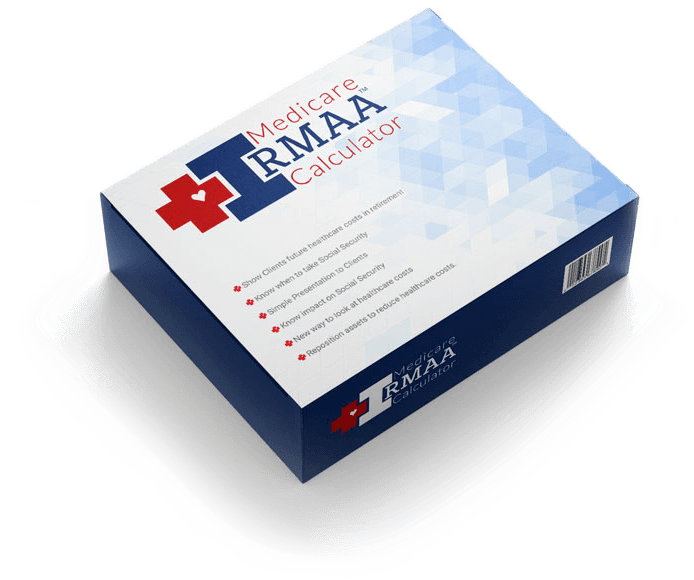 Using this software is a breeze.
Do you want to see just how simple to use this software really is?
With the Medicare IRMAA Calculator
TM

, you can expect to:
Click the link to obtain your license for Medicare IRMAA Calculator so that both your clients and your bank account can live happily ever after!
Do you want some reassurance before you claim your access to this software? Checkout these testimonials from other professionals who have found success using Medicare IRMAA Calculator in their business!
The IRMAA presentation is nothing short of a game changer. The data provided is highly motivational to clients to take action on life insurance and annuity purchases to avoid future taxation and costs. I specialize in premium financing for rising affluent clients and this additional information creates even more urgency to move away from the traditional qualified plan approach to retirement. As fiduciaries for our clients, once you know this information, it is imperative that you share it with everyone you meet. "Knowledge is power," as they say, and this information is as powerful as it gets in motivation clients to reevaluate their current path.
I have never seen anything that affects so many of our clients so profoundly, that no one knows about. None of the retirement planning software out there covers this – the calculations are too complex and have to be redone every year, so they skip it – the largest single expenditure for most people in retirement - and they skip it. This will open a lot of doors, both with clients AND CPAs.

I know it helped in $870,000 of life premium!
"It's Part of our Process"
3 Advisors hired since October 2020
3mm new AUM 1.5mm in transit
$68,000 life commissions since September 2020
$442,000 annuity premium
Premium finance case for $12 million face amount, target premium $293,000 annual premium $450,000! The case was sold after we ran the Medicare IRMAA Calculator and discovered a $3.2mm future Medicare IRMAA cost to age 90. The case issued in December…$198,000 in commissions good start to 2021!