learn how to legally reduce or eliminate your IRMAA
IRMAA is going to wreak havoc on Baby Boomers' retirements. Don't let your retirement become one of the casualties.
Have you received an IRMAA letter? If so, you are probably looking for answers. Or perhaps you are planning your retirement and are curious about what IRMAA is and if it'll affect you.
Either way, you are probably feeling apprehensive about the future. You might be asking questions such as, "What is IRMAA? How much is IRMAA going to cost me?" and most importantly, "How can I avoid paying IRMAA?"
If you are looking for answers about IRMAA, you've come to the right place. At IRMAA Solutions, we help retirees who are subject to IRMAA save their money and peace of mind by predicting future Medicare costs and creating IRMAA exempt retirements.
IRMAA is an additional surcharge added onto the monthly Medicare premiums of "wealthy" individuals.
Do you want to know if you'll be subject to IRMAA? Find out with a free IRMAA test!
The solution to IRMAA is the Medicare IRMAA Calculator™
This revolutionary software will project your future Medicare premiums, show how they'll affect your Social Security, and let you safely explore IRMAA exempt retirement strategies that'll reduce your premiums.

The calculator is accurate, affordable, and easy to use. The only thing you need to do is fill in some information such as name, retirement income sources, and tax status. From there the calculator compares your information to thousands of data points, performs the appropriate calculations, and returns an easy-to-read report of your future financial situation.

If you are required to pay IRMAA, your retirement is in danger. Using Medicare IRMAA Calculator™ is the easiest way to escape the retirement-killing clutches of IRMAA. It can save your money, your peace-of-mind, and very likely your future.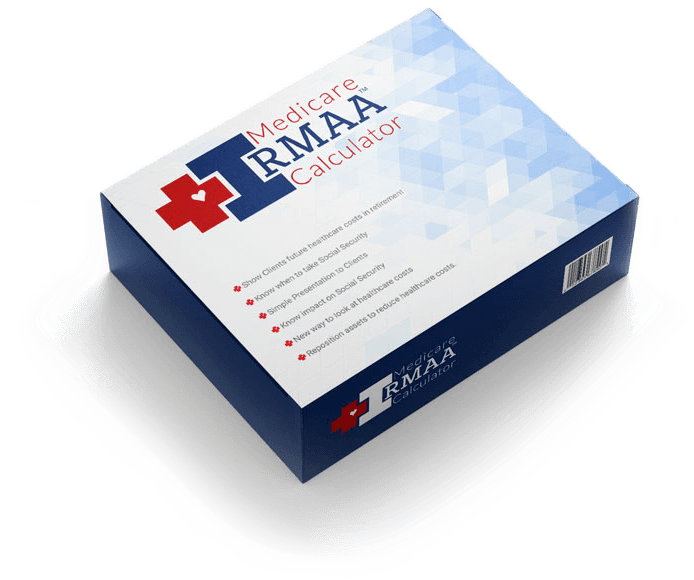 If you are subject to IRMAA, the time to act is now! Get Medicare IRMAA Calculator™ and save your retirement today.
Using this software is a breeze.
Do you want to see just how simple to use this software really is?
This software is used by financial advisors in some of the world's largest firms. Check out what they had to say.
The IRMAA presentation is nothing short of a game changer. The data provided is highly motivational to clients to take action on life insurance and annuity purchases to avoid future taxation and costs. I specialize in premium financing for rising affluent clients and this additional information creates even more urgency to move away from the traditional qualified plan approach to retirement. As fiduciaries for our clients, once you know this information, it is imperative that you share it with everyone you meet. "Knowledge is power," as they say, and this information is as powerful as it gets in motivation clients to reevaluate their current path.
I have never seen anything that affects so many of our clients so profoundly, that no one knows about. None of the retirement planning software out there covers this – the calculations are too complex and have to be redone every year, so they skip it – the largest single expenditure for most people in retirement - and they skip it. This will open a lot of doors, both with clients AND CPAs.

I know it helped in $870,000 of life premium!
"It's Part of our Process"
3 Advisors hired since October 2020
3mm new AUM 1.5mm in transit
$68,000 life commissions since September 2020
$442,000 annuity premium
Premium finance case for $12 million face amount, target premium $293,000 annual premium $450,000! The case was sold after we ran the Medicare IRMAA Calculator and discovered a $3.2mm future Medicare IRMAA cost to age 90. The case issued in December…$198,000 in commissions good start to 2021!
With the Medicare IRMAA Calculator
TM

, you can expect to:
Don't let IRMAA wreck your retirement. Get Medicare IRMAA Calculator™ and build an IRMAA proof future today!